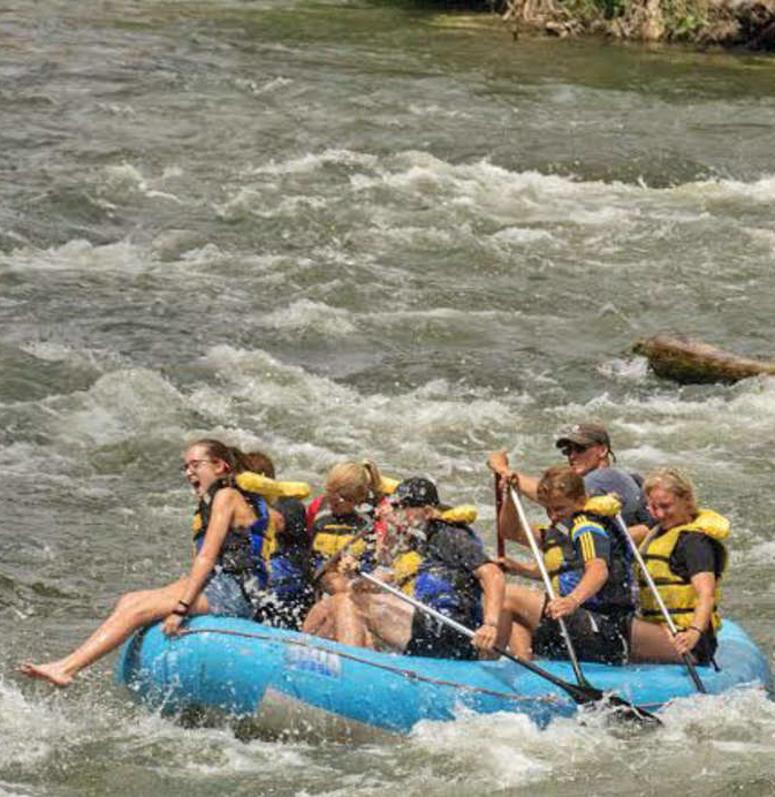 Destination Sports and Adventures
Offering horseback riding, mountain biking, river rafting, hiking, fishing, kayaking, river tubing, and team building all up in Park City. Destination Sports and Adventures is your experienced outdoor headquarters located in Park City, Utah.
Overview
Destination Sports and Adventures is the oldest adventure guide company in the Park City area. They offer summer adventures from whitewater river rafting, kayaking and tubing to mountain biking, horseback riding and fly fishing. If you're looking for a leisurely half-day excursion or a full-day multi-sport adventure including meals and transportation, the expert guides at Destination Sports and Adventures know the area and know all the adventures that the Wasatch Back has to offer.
Whether you want group activities or just some fun for the family, they can recommend and customize a wide variety of outdoor activities for any need. Destination Sports caters to all types of large and small groups, including families with children as young as 3 years old, couples, groups of friends, sports teams, corporate groups, church groups, youth camps, and the over-50 crowd!
All of the Wasatch Back adventures that Destination Sports has to offer are located just a short drive from Park City or the Wasatch Front. If you don't want to drive, Destination Sports can offer group transportation from your hotel anywhere in the Park City, Salt Lake City or Ogden areas.
Whitewater Adventures on the Weber River and other Fun Summer Activities
Float through a trove of bald eagles, red-tailed hawks and great blue herons' nests. See a gaggle of Canada geese or a skein in flight, as you quietly paddle by. Enter the rugged Weber Canyon to discover outcrops and formations revealing hundreds of thousands of years of geological wonder
Destination Sports & Adventures offers half-day white water rafting trips for only $55 for adults, $45 for youth ages 7 – 12, and children ages 3 – 6 go free with a paying adult! Make it complete by adding on a riverside sandwich buffet lunch or Western BBQ dinner after your river trip.
For the adventurous at heart and those who like to paddle their own boat, river kayaking on one of Destination Sports sit-on-top inflatable kayaks is just the ticket. A half-day guided kayak trip is as low as $79 per person, whether you take your own single-person kayak or double up with a partner in a two-person boat.
'WasSUP?' We'll tell you what's up! It's Stand Up Paddle Boarding (SUP). Based on your paddle boarding experience, you can select the perfect river trip for you. With world class paddle boarding guides, you are guaranteed one of the best paddle boarding trips of your life.
For only $25 per person, you will float through the same class II and class III rapids as the rafting and kayaking trips, but it is more challenging on a tube.
Summer Time Adventures on Land
Whether you're a beginner, expert, or just looking for some beautiful scenery, you'll be able to find that ideal hike that suits both your wants and needs. The guides here won't only help you find your ultimate hike, they'll also be able to assist you with hiking tips along with shortcuts so that you are making the most of your time.
Looking for a half day? Full day? Night ride? You have a variety of bike tour options here. You can also choose whether you're in the mood to take a relaxing ride, moderately difficult ride, or a super intense bike ride. How you spend your time biking is truly up to you!
There's nothing quite like taking a horseback ride through the Park City area. You'll have the chance to get up and personal with nature and be able trust you are getting an experience like no other with a business who has over 15 years of experience.
Check out of the usual day to day routine and spend some time on the river enjoying some good ole fly fishing. With experienced guides and the serenity surrounding you, you're sure to be hooked with your first cast into the river.
Full-Day Multi-Sport Adventure Trips
This 1.5 to 2 hour easy guided bike ride of level or slightly downhill grade follows Poison Creek through Park City and out through the beautiful rolling hillside of Summit County. After you've worked up a good appetite, Destination Sports guides will take you to their private riverfront property to relax and enjoy a delicious sandwich buffet picnic. After lunch, it's time to grab a paddle and get wet!
Saddle up for a morning horseback riding adventure through the rugged Wasatch Mountains with professional guide wranglers leading the way.
Paddle & Put is a fantastic way to spend the day with family, friends or colleagues. First, your guide will steer you through the exhilarating whitewater rapids of the rugged Weber Canyon. You'll paddle right up to the banks of the Round Valley Golf Course in beautiful Morgan, where you'll enjoy a delicious catered sack lunch. You can customize and choose from 2 or 3.5 hours on the river and 9 or 18 holes of golf. Prices start at $85 per person, up to $138 per person, depending on which options you choose.
Starting the day at 9 AM to take a hike and go on a river trip will make you as excited to wake up as a little kid on Christmas. You'll start with a guided hike on a trail of your choice whether that be an easy, moderate, or advanced hike. Afterward, you'll get a yummy catered lunch to get you refueled for the rest of the day. Next, is your choice of rafting or kayaking and then you'll be on your way down the Weber River to finish off a fun filled day.
If you're craving a day on the river, then this combo trip is calling your name. You'll get a full day on the river with both fly fishing and then your choice of rafting or kayaking. It's every water lover's dream!
Lovers of being active both on land and wheels have it made with this excursion. With this trip, you get a full day of mountain adventures with both hiking and biking.
Not sure if you want to fly fish or bike first? No worries! You get to choose the order of how this trip goes. Bike in the morning with some relaxing fly fishing after lunch. Or swap it and do it the other way around. Either way, you get the best of both the biking and fly fishing world with this one.
Winter Activities
Snowshoeing is one of the fastest growing winter activities so if you haven't tried it, you should probably get on that. You'll see gorgeous views of the Park City foothills and might even sneak a peek at some of the wildlife in the area. No experience is necessary, so if you're a beginner or an expert, this snowshoeing tour will leave you waiting for when you can schedule your next visit.
You may be under the impression that fly fishing is only a summer sport in which case you couldn't be more wrong. Many experts in the field agree that the lower stream level actually makes winter the perfect time to catch all the fish you could ever dream of.
As the Christmas song goes: "Come on, it's lovely weather for a sleigh ride together with you." We're pretty sure when they wrote those lyrics they had the Park City horse drawn sleigh rides in mind:) Whether you're wanting to snuggle up to your loved one or make it a family/friend event, this is an outing that will leave your cheeks hurting from all the smiling you do throughout the ride.
Everyone knows that dog is man's best friend. So, it's really no surprise that dog sledding would be one of the best activities you could do this winter. Both the mushers and Alaskan huskies will take you on a ride that you'll be talking about for years to come.
Imagine snowmobiling on a 9,000-acre preserve in Weber Canyon that no other place has access to. Now imagine plowing through that fresh powder but staying warm all the while with heated vents and heated handgrips on the snowmobiles. And don't stress if you're a beginner. The guides are there to supervise and ensure everything goes off without a hitch.
Utah no doubt has the greatest snow on Earth and we also have the most accessible resorts. You can be shredding down the slopes within 35 minutes after leaving the Salt Lake City airport. There's also easy access to shuttles and buses from all around town so the commute is easy breezy.
We've all been to those team building meetings where we have to play those games that can we just be honest here? They're BORING! This is not the case though when you do Team Building Park City-Style. From mountaineering to river rafting to rope courses, your team will not only be more bonded than ever before but it will also be a memory the team will never forget.
All of the exciting and expertly guided outdoor adventures offered by Destination Sports happen on the Wasatch Back. Activity locations in Henefer, Morgan and Oakley are just 30 to 45 minutes away from Park City, 45 to 60 minutes away from Salt Lake City, and only 20 to 70 minutes away from Ogden, depending on which adventure you choose.
Active Tours
Biking:

Hiking:

Horseback Riding:
Planes, Trains & Automobiles
ATV/UTV:
Specialty Trips
Kid-Friendly Tours:
Tour Area
Park City:

Provo:

Salt Lake City:
Tour Duration
Full Day:

Half Day:
Water-related Tours
Fishing:

River Tubing:

Whitewater Rafting:
Winter/Snow Tours
Sleigh Rides:

Snowmobiling:

Snowshoeing:
Water Sports Rentals
Float Tubes:

Kayaks:

Stand Up Paddle Boards:
Seasonal
All Year:

Autumn:

Spring:

Summer:

Winter:
Suitable For
Business:

Couples:

Families:

Friends:

Kid Friendly:

Large Groups:

Solo:
View Website
Meets at various locations
Park City, UT 84060 See Map