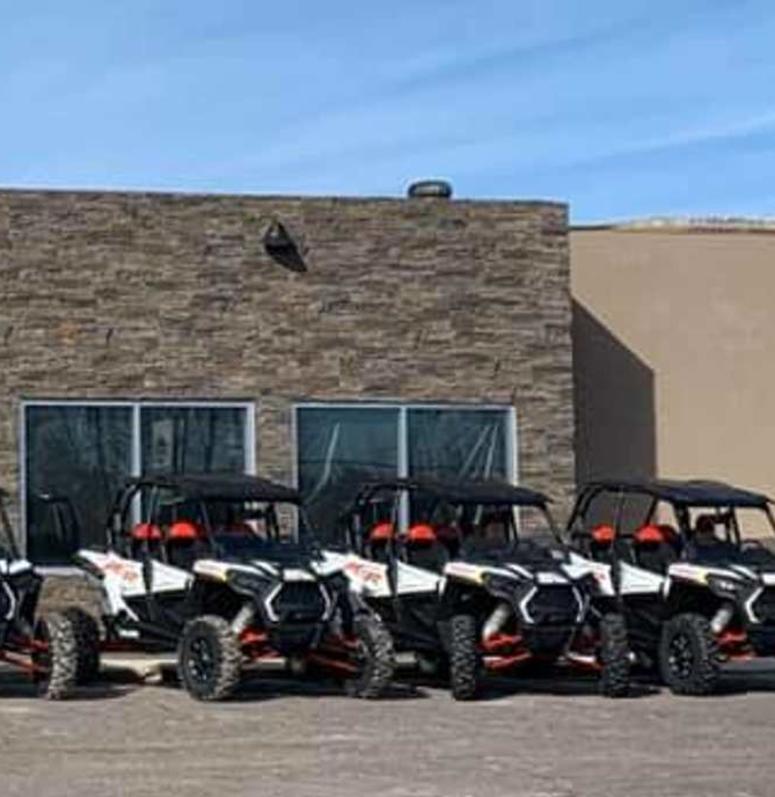 Side Trax Rentals
Explore Emery County's scenic beauty on a UTV rental or tour from Side TRAX!
Overview
Rentals
Four-Seater Rental
Duration: 4-24 hours
Ages: 18+
ATVs will be trailered by SideTrax to your destination and from your destination.
Rental Rates:
$429/ Overnight rental
$349/ 8-hour rental
300/ 4- hour rental
Tours
Side TRAX Rentals offer exciting tours with knowledgable guides!
Dutch Flat Petroglyph Tour
Tour rocky terrain and enjoy canyon views and petroglyphs!
Duration: 4 hours
Ages: 18+
Eagle Canyon, Devil's Racetrack Loop
Eagle Canyon and Eagle Arch (Needles Arch) are an absolute must in the San Rafael Swell. The trail winds its way through juniper trees against the canyon walls. Once you reach the bottom, you can ride in a wash to reach the I-70 bridges that span the canyon.
Duration: 8 hours
Ages: 18+
Manti LaSal Skyline Loop
The Manti LaSal National Forest offers exciting off-road and ATV trails.
Duration: 8 hours
Ages: 18+
Tour Rates:
$550/ 8 hour rental
$450/ 4 hour rental
Planes, Trains & Automobiles
ATV/UTV:
Tour Duration
Full Day:

Half Day:
ATV/UTV Rentals
ATV/UTV Rental:
Seasonal
All Year:

Autumn:

Spring:

Summer:

Winter:
Suitable For
Couples:

Families:

Friends:

Solo:
View Website
35 North State Street
Ferron, UT 84523 See Map