We all know Utah is home to some of the most surreal landscapes on Earth — from imposing hoodoo collections to antelope islands full of bison. But in summertime, when road trips are more frequent and sunsets more fiery, opportunities for breathtaking photos are everywhere.
Below is a sample platter of summer stunners, all kindly provided by some gifted photogs. Make sure to use #youtah on the IG for a chance to be featured in our next photo roundup.
Deer Creek Reservoir at Sunset / Leroy Jessop / IG: @lsjessop.photography
Location: Deer Creek State Park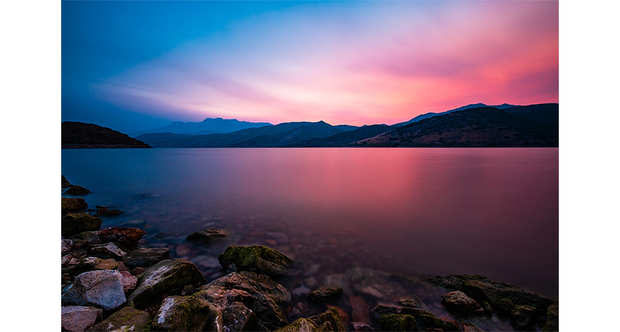 Deer Creek Reservoir at Sunset
This photo was taken on the east end of Deer Creek Reservoir just off of Highway 189. The orange light caused by wildfire smoke made for a very unique sunset. Being a landscape photographer I always have my camera with me wherever I go. I often drive by scheming how to get a good reflection of Timpanogos on Deer Creek but have only once seen it calm enough to get a reflection, so I took what I had and made it work. I used a 120-second exposure to get the desired water smoothness and cloud movement.
Peek-a-Boo / Ewa Hajbos / IG: @ehajboss
Location: Zion National Park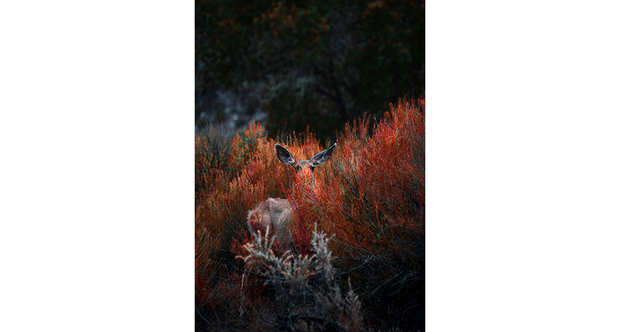 Peek-a-Boo
The photo was taken right after a flash flood warning was issued. This girl was wandering along the empty road. She was clearly curious seeing me with a camera but she also kept her distance, so this little gem happened.
That Hiking Feeling / Nathan Guymon / IG: @the_nater_greater
Location: Angels Landing Trail, Zion National Park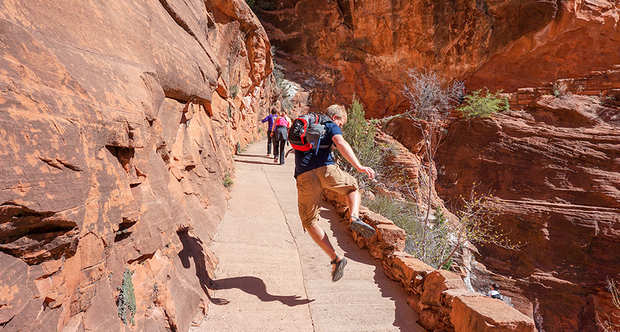 That Hiking Feeling
This photo was taken on the way up to Angels Landing with a group of my good friends. I wanted to capture the pure joy of hiking and that the trail is about the route and not just the destination. To me, hiking offers a needed change in pace from the rush of life.
Grandma Moose / Rory Pendleton / IG: @rory_j_pendleton
Location: Silver Lake Trail, Big Cottonwood Canyon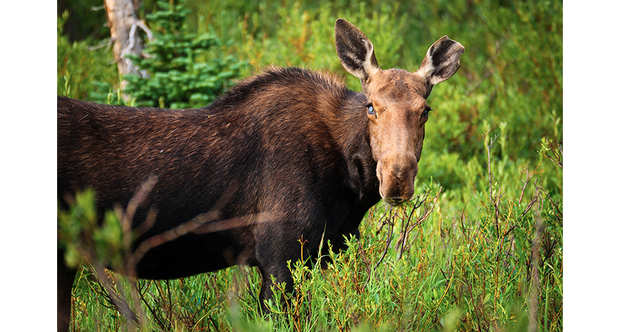 Grandma Moose
One of the local rangers called her Grandma Moose. She is blind in one eye and missing half of her ear. I was lucky enough to spend a couple hours photographing her one beautiful morning.
Rainbow Over Canyonlands / Abbie Warnock Matthews / IG: @abbiewarnockmatthews
Location: Island in the Sky, Canyonlands National Park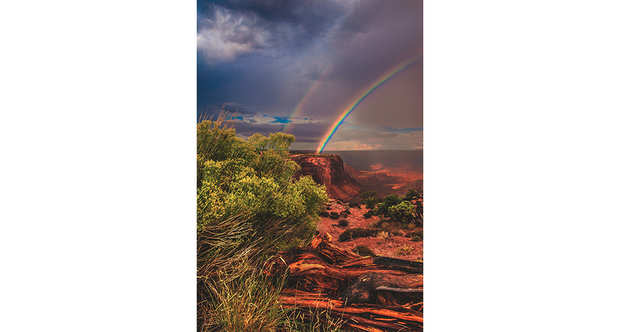 Rainbow Over Canyonlands
This image was taken just as the tail end of a summer thunderstorm finished blowing over the Island in the Sky area of Canyonlands National Park. When we deemed it safe to get out of the car where we had taken shelter from the rain and lightning, we were greeted by a beautiful double rainbow hitting the mesa at one of the overlooks. What a reward for waiting out the storm!
Sunbeams Dancing Across the Misty Shadows / Garth Rogers / IG: @garth_rogers
Location: Bridal Veil Falls, Provo Canyon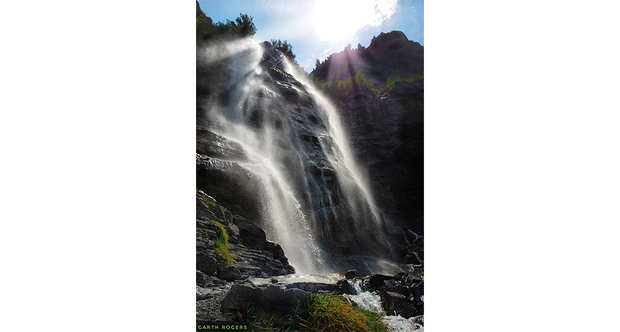 Sunbeams Dancing Across the Misty Shadows
It was a challenge getting to the right angle in order to catch the "Dancing Sunbeams."
Location: Bountiful, Utah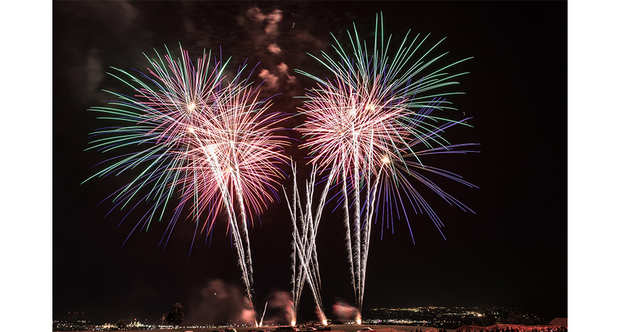 Summer Celebration
Gathering with family and friends in Bountiful at the Pioneer Day Celebration is a fun summer tradition that we look forward to every year.
Kanarraville Falls Ladder / Philip Jaw / IG: @lipjawphotos
Location: Kanarraville Falls, Kanarra Creek Trail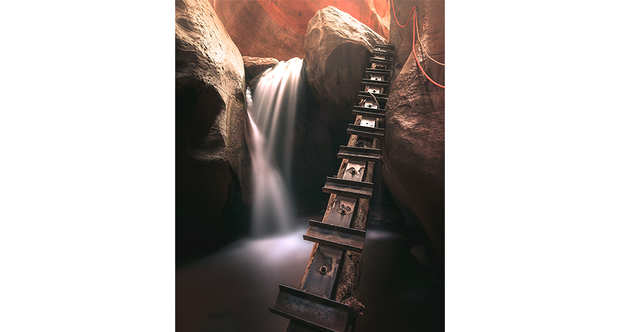 Kanarraville Falls Ladder
I had the pleasure of visiting Kanarraville Falls in July and once my parents and brother saw the photos from that trip, they made me promise to take them the next time I returned. That opportunity came about in August when this photo was taken and I really wanted to capture this area in a different perspective since it was my second time out and thought to zoom in on the ladder and captured this shot.
Interstitial Twilight / Emily Jeppson / IG: @emilyjeppson
Location: Observation Point Trail, Zion National Park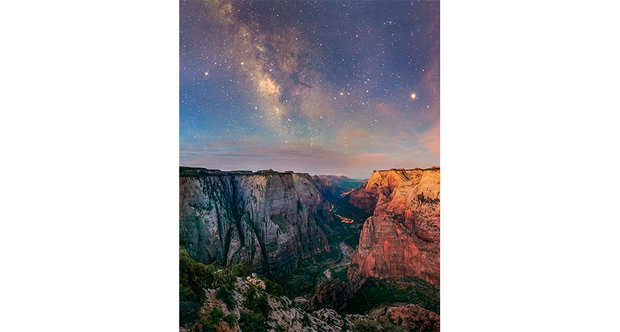 Interstitial Twilight
It's a bit of a hike to get to this overlook in Zion National Park, but the views down the canyon are astounding. It was magical to watch the Milky Way fade from the sky as the first hints of sunrise bounced across the canyon walls.
Nature's Color Palette / Amit Surve, M.D. / @iamiitsurve
Location: Albion Basin Trail, Little Cottonwood Canyon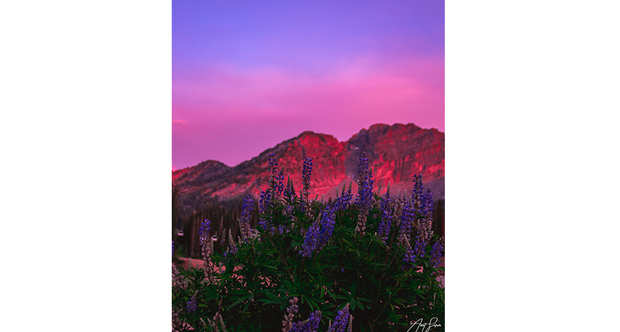 Nature's Color Palette
This shot was taken in the Albion Basin. The wildflower season typically peaks around the middle of July and this hike — especially in July — is a must-do for those who to experience the beauty of Utah's mountains! The hills are covered in yellow, blue, and purple wildflowers. It is totally worth, viewing this magical place at the time of sunset!
Down with the Wildflowers / Melody Forsyth / @downwithadventure
Location: Albion Basin Trail, Little Cottonwood Canyon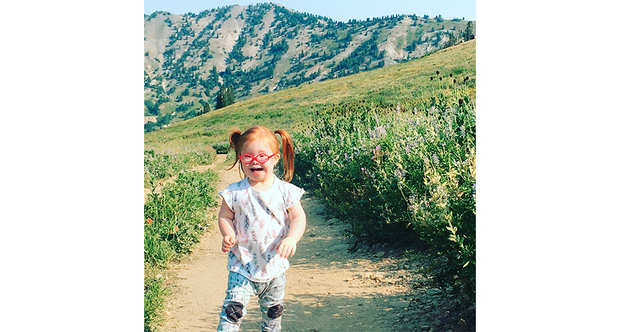 Down With the Wildflowers
Even though Ruby has Down syndrome, she doesn't let that stop her from enjoying the beauty in her backyard. She loves hiking and enjoyed a morning hiking among the wildflowers and touching them. Utah has the best adventures!
Double Rainbow near Kodachrome / Matthew Wolter / @mw.phx.az
Location: Kodachrome Basin State Park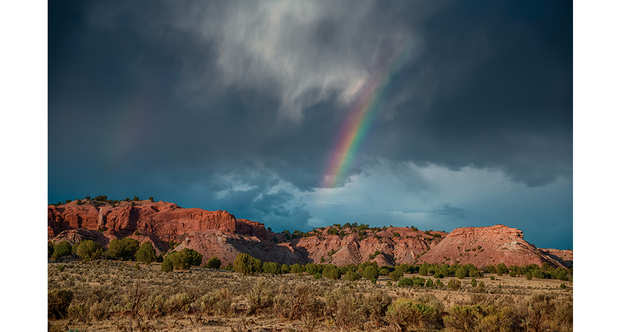 Double Rainbow Near Kodachrome
In late May, while on a road trip vacation in southern Utah, I captured this shot. I had spent the day hiking off the dirt road of Cottonwood Canyon Trail and a big storm had followed me all day. When it got almost too close for comfort, I made my way to Cannonville. After coming to the entrance road to Kodachrome Basin State Park, I pulled off to check out the storm and saw a double rainbow arching in the direction of the park. I took several shots and this was the best of the bunch.