Park City Fishing
---
Park City isn't just for skiers. In fact, summertime is arguably (dare we say it!) slightly better than winter. The crowds are gone, the locals come out to bask in their paradise without all the tourists, mountain bikes get a tune-up and are put straight to work, trail runners go all ultra and the rivers and lakes invite fishers from all over the world for the best fishing of their lives.
Two very popular fly fishing waters are located close to Park City. The Provo River through Heber Valley and down Provo Canyon is rated as one of the best trout waters in the US, and it can be fished year-round. The Weber River between Rockport and Echo Reservoirs is also considered a blue-ribbon trout stream.
The Provo has a very high number of large fish per mile - it is a great trophy trout water.
Both waters produce hefty brown trout, along with an assortment of other trout species. Both get heavy pressure and so the fish see a lot of flies. The secret to catching them is to work flies that "match the hatch" through areas where fish feed. Much of the natural food in these streams is found below the water's surface, and the fish usually hold near the bottom. Dry fly fishing is good at times; nymph fishing is almost always good for fishermen who can get deep and present small patterns with a natural drift.
The trout, particularly the large ones, are well educated and can be picky. It pays to get the latest info about successful flies and techniques by talking to the people who work in the fly shops. Both Park City and Heber City have excellent shops with knowledgeable employees.
Jordanelle Reservoir is one of Utah's most popular flatwaters. It offers trout, smallmouth bass and perch. Nearby, Rockport Reservoir is usually good for these same species. Trout fishing is good year-round, whenever these reservoirs have open water or ice that is solid enough to walk on. Trout taken from shore or boat by anglers fishing baits (Powerbait or worms) and small lures. Bass are taken using jigs and crainbaits. Perch will bite virtually any small bait.
The Uinta Mountains to the east offer hundreds of small lakes and streams teaming with trout. These mountains are all but inaccessible during the winter because of deep snow and extremely cold temperatures. The mountains begin to open up during late June, and snow may shut down the high passes in late September. The growing season is short here and so trout are usually small, but they are almost always hungry. Fishing can be very fast.
Strawberry Reservoir is not far from Park City and it is Utah's most popular fishing water. It is usually good for large cutthroat and rainbow trout and kokanee salmon.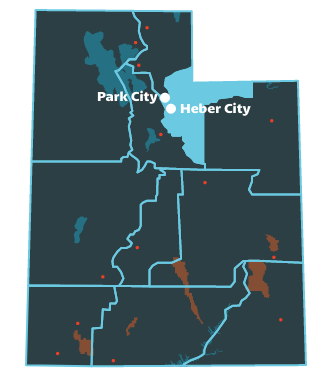 Wasatch Back Region
---