Cable Mountain Lodge
Cable Mountain Lodge is a hotel near the entrance to Zion National Park.
Overview
Cable Mountain Lodge is nestled near the cliffs, and at the entrance of Zion National Park, yet shopping, dining, and entertainment venues are conveniently nearby. The rooms offer a distinctively warm atmosphere and the caring staff is happy to share their knowledge and local perspective to help enhance your stay. This is a lodging experience to complement your discovery (or continuing re-discovery) of Zion National Park.
COVID Precautions:
Frequently cleaning and sanitizing all touched hard surfaces in common areas throughout each day.
Heightening sanitation and deep cleaning of our guest rooms during each stay and following the departure of every guest, using health and safety measures that are designed to address a broad spectrum of viruses including Coronavirus.
Requiring frequent hand washing by all of our team following correct and effective hand washing procedures.
Providing an increase in hand sanitizing stations in high traffic areas.
Amenities
24 Hr Front Desk:

Bar:

Business Center:

Fitness Center:

Free WiFi:

Gift Shop/Convenience Store:

Meeting Rooms:

Non-Smoking Rooms:

Parking:

Restaurant:

Spa:

Swimming Pool:

Zion National Park Shuttle:
Fun Things To Do
Biking:

Hot Tub/Jacuzzi:

Outdoor Pool:

Walking/Hiking Trails:
Hotel Rating
3 Stars:
Popular Amenities
Free Toiletries:

Hairdryer:

Kitchen Facilities:

Private Bathroom:

Restaurants:
Price Range
$$$ ($150 - $225):

$$$$ ($225 - $500):
Property Type
Hotel:
Room Amenities
Air Conditioning:

Baggage Storage:

Bathtub & Shower:

Coffee Machine:

Flat-Screen TV:

Heating:

Kitchen/Kitchenette:

Private Bathroom:
Seasonal
All Year:

Autumn:

Spring:

Summer:

Winter:
Suitable For
Business:

Couples:

Families:

Friends:

Large Groups:

Solo:
Rooms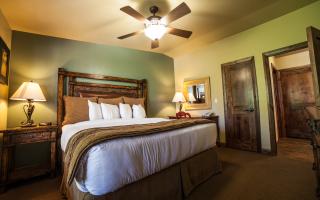 Classic Suites - King & Sofa Sleeper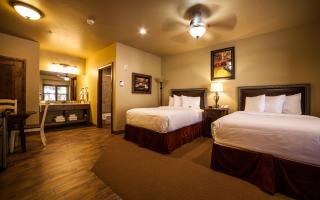 Nearby Attractions
Closest Airport
St. George Municipal Airport
30 miles
Closest National/State Park
Zion National Park
0.2 mile
What's Nearby
Zion Canyon Theater
0.2 miles