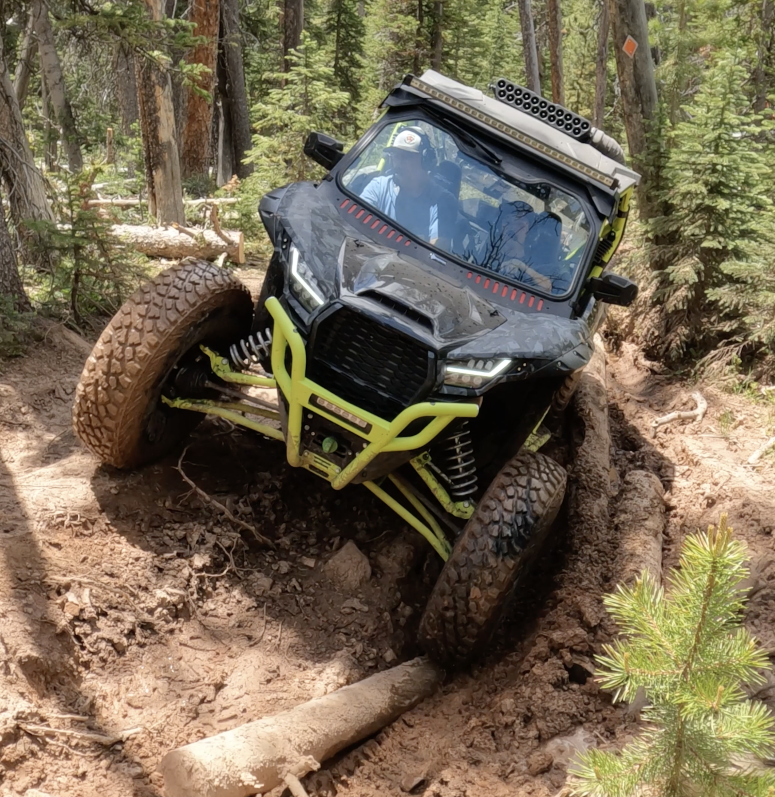 John Taylor OHV Trail
Tall trees, meadows and an old copper mine. There's no shortage of scenery along the John Taylor OHV trail, just minutes outside of Vernal.
Overview
This popular Uintah County OHV trail climbs to 10,180 feet as you meander along Taylor Mountain in Ashley National Forest. You'll ride along Ashley Gorge, Anderson Creek, Dyer Mountain, Iron Springs and Big Bush Creek Cave.
Interactive Trail Map
Click on the icon for each of the obstacles.
Trail Overview
The John Taylor OHV trail is a 38-mile loop, with plenty of potential sightseeing stops along the way. The road is generally mild, but it gets a bit gnarly for a mile stretch littered with small boulders and logs. You'll cross a creek and possibly some sizable puddles, as well. Extend your ride by adding the Dyer Mine Loop. Along it, you'll come across a copper smelter and a mine that produced copper and a bit of gold. 
Keep your eyes out for wildlife, lakes of lily pads, quaking aspens and lodge pole pines. There are even a few places for Insta pics, including a mostly intact — albeit rusty — Rio Grande car. Stop at Leidy Peak, one of the highest in the Uinta Mountains, for a snack break and some breathtaking views.
Trail Details
Timestamps from video
Ashley Gorge Overlook #1: This overlook provides the best vantage point to look directly down the gorge! (If you dare, that is.)
Ashley Gorge Overlook #2: Leaving the thick pines, you'll notice you've been driving alongside a steep gorge.
Accessible By: 
Dirtbikes
ATVs
Side by Sides
UTVs
Jeeps and 4x4s
Distance: 38 miles
Rating: Easy to difficult
Technical rating: 5/10 (one short, steep section 7/10) 
Time to Ride: 6 to 8 hours
Seasonal: Late spring to fall
How to Get There
Taylor Mountain is located at 40.7202349°N, -109.6418106°W. You can stage your vehicle from the Doc's Beach parking area, about 15 minutes north of downtown Vernal — just off 2500 W St. This is a shared lot for multiple OHV trails in Vernal, so remember to be courteous when unloading and parking. 
Need to Know
Most of the trail is easy to moderate, but the extra loop portion near Dyer Mountain is rated difficult. If you're not prepared for a fairly rough ride, best to skip that portion and stay on the main loop. Download a copy of the map so you won't need to rely on patchy cell service to find your way.
Downloadable Maps:
Nearby Places to Stay
Camping
Hotels
Nearby Rentals
Don't have your own ride? Rent one.
Nearby Events
Every spring and fall, thousands of birds — red-winged blackbirds, mallards, American goldfinches, Canada geese — can be seen at the Ouray National Wildlife Refuge. Also in the fall, you'll likely see elk and mule deer. You can take a driving tour of wetland habitat anytime of year to catch glimpses of porcupines, great horned owls and bald eagles. The refuge is about 30 miles southwest of Vernal.
TRAVEL BUREAU INFORMATION
VISIT DINOSAURLAND
152 E. 100 N.
Vernal, UT 84078
800-477-5558
Visit website
Click here for more OHV trails in this area.
FREE OHV COURSE
Utah requires all OHV operators to complete the free Utah Off-Highway Vehicle Education Course. Operators under the age of 18 shall possess a youth OHV education certificate in order to operate an OHV on public land, road or trail. Operators 18 years of age or older may operate an OHV if they possess an approved adult OHV education certificate. The once-in-a-lifetime course is expected to take less than 30 minutes to complete. 
Seasonal
All Year:
Suitable For
Couples:

Families:

Friends:

Large Groups:
Accessible By
Dirt Bike:

ATV:

SxS (Side by Side):

High-Clearance 4x4 (Jeep):
Best Seasons to Ride
Spring:

Summer:

Fall:

Winter:

Year-round:
OHV Trail Difficulty
More Difficult:
Route Type
Loop:
Services & Nearby Facilities
Restrooms:

Facilities:

Steinaker State Park
Technical Rating
7 to 10:
Trail Distance
10 to 30 miles:
General
Historic Sites:

Outdoor Activities:

Summer Tours:

Vehicle Tour:
Sustainability
Dog Friendly:
To Do
ATV:

Camping:

Dirt Bikes:

OHV/Off Road Driving:

Scenic Driving:

UTV:
Trail Features
Difficulty:

Hard

Distance (mi.):

20

Parking Type:

Parking Lot

Route Type:

Loop

Trail Traffic:

Light
Trail Length
11 - 20 Miles:
Nearby Attractions
Closest National/State Park
Dinosaur National Monument
10
More OHV Info
40.511061, -109.574655
Vernal, UT 84078 See Map