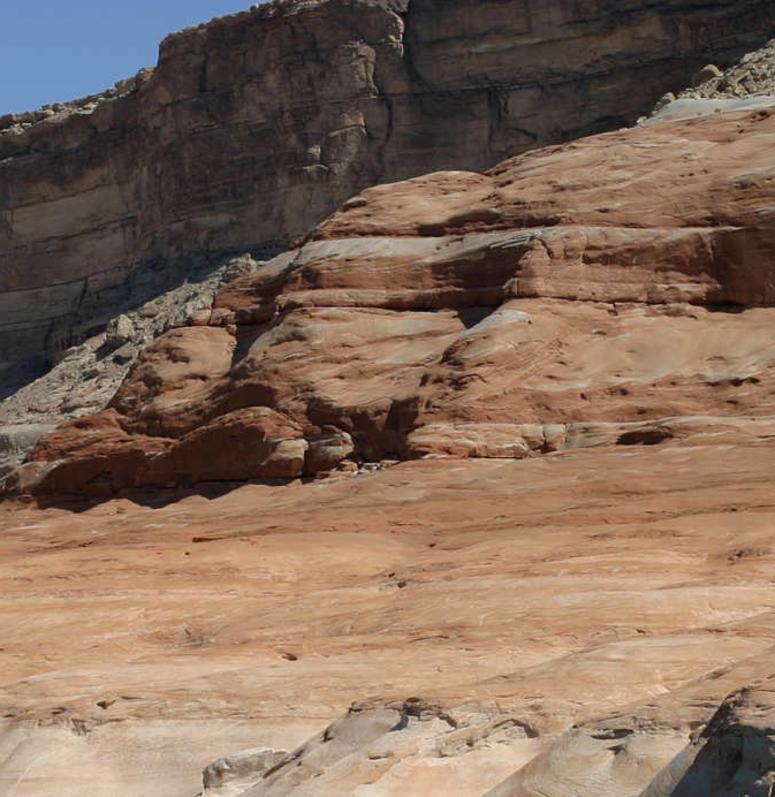 Lake Powell Resorts & Marina Houseboat Rentals
Houseboat, boat, and jet ski rentals, what more do you need to explore the canyons and wonders at Lake Powell.
Overview
Imagine all the comforts of home—comfy beds, great living space, a fully appointed kitchen and a solid sound system—on your private houseboat, surrounded by Lake Powell's breathtaking scenery.
One of the best things about houseboating is that even a first-time boater can learn how to pilot a houseboat after just a short lesson, taught by our expert staff. Once you're underway, you'll be off and exploring one of the largest man-made reservoirs in the country—home to 96 major side canyons and nearly 2,000 miles of shoreline.

Choose from two great marinas:
Wahweap in Arizona
Bullfrog in Utah.
Click here for houseboat specials
 
LUXURY HOUSEBOATS
The ultimate Lake Powell experience begins aboard the luxury houseboats—a fleet like no other. These luxurious houseboats—from 54 to 75 feet in length—combine a spacious layout with no-holds-barred elegance. The luxury houseboats offer the finest amenities for the ultimate experience—hot tubs, wet bars, satellite TV, sumptuous staterooms, and gourmet kitchens.
Luxury Houseboat Types:
75-ft Excursion Houseboat: Accommodates up to 12
65-ft Axiom Star Houseboat: Accommodates up to 8
62-ft Journey Houseboat: Accommodates up to 12
54-ft Escape Houseboat: Accommodates up to 12
DELUXE HOUSEBOATS
With their perfect combination of upgrades and value, it's little surprise these deluxe houseboats are among the most popular rentals at Lake Powell. They can sleep a dozen guests in comfort, and come with all the amenities you'd expect (and many you wouldn't) in mid-range houseboats, such as tastefully appointed staterooms, full-sized kitchen ranges, and outdoor gas grills.
Deluxe Houseboat Types:
59-ft Discovery XL Houseboat: Accommodates 12
59-ft Wanderer Houseboat: Accommodates 12
48-ft Navigator Houseboat: Accommodates up to 10

50' Nomad. Accommodates 10.
ECONOMY HOUSEBOATS
If you're searching for affordable houseboats, Lake Powell Resorts & Marinas has got you covered: Lake Powell Resort & Marinas offers you four different models in their fleet, which are modest in budget but big on features. If you'd thought that an inexpensive houseboat rental didn't exist, you'll be pleasantly surprised.

Economy Houseboat Types:
53-ft Adventurer Houseboat: Accommodates up to 12
46-ft Voyager Houseboat: Accommodates up to 8
46-ft Expedition Houseboat: Accommodates up to 6 
WATER TOY RENTALS
Wakeboard
Kneeboard
Water Ski
Ski Tube
Kayak
Paddle-board
Water Sports Rentals
Boat Rentals:

Float Tubes:

Jet Skis/Wave Runners:

Kayaks:

Stand Up:

Water Sport:
Seasonal
All Year:

Autumn:

Spring:

Summer:

Winter:
Suitable For
Couples:

Families:

Friends:

Kid Friendly:

Large Groups:

Solo:
View Website
100 Lakeshore Dr.
Page, AZ 86040 See Map