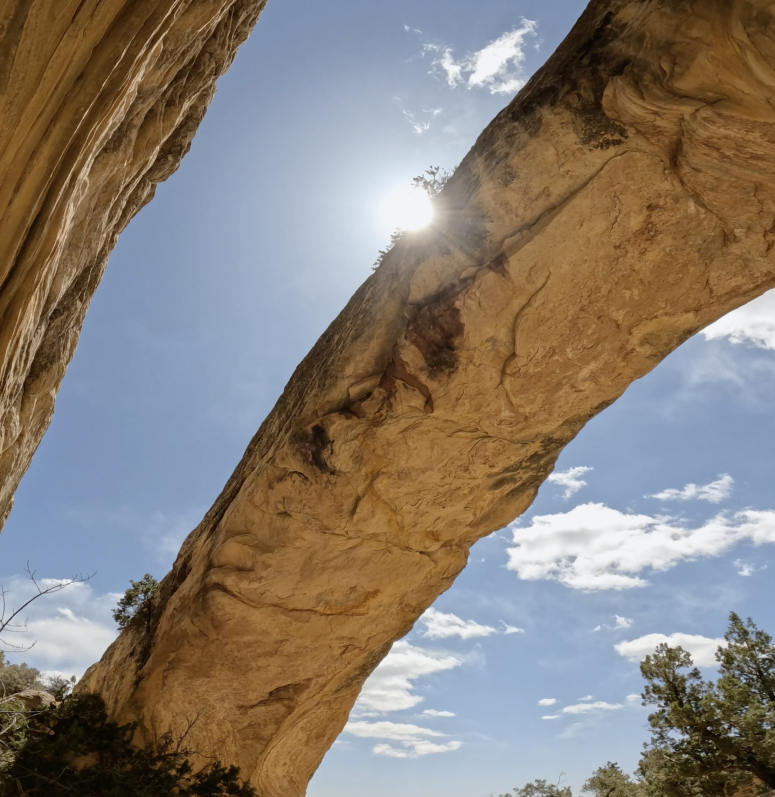 Moonshine Arch OHV Trail
Looking for OHV trails in Utah? Check out Utah.com's guide to Vernal's Moonshine Arch Trail and you'll be exploring and off-roading in no time.
Overview
The Moonshine Arch Trail is part of the Outlaw Trail system in Vernal, Utah. It features easy and moderate terrain, and allows riders to either drive or hike to the majestic Moonshine Arch, an impressive hidden gem tucked away in the Vernal backcountry near Steinaker State Park.
Trail Overview
If you search "Moonshine Arch Trail" online, you'll most likely find results for a quick out-and-back hike to the Moonshine Arch. But it's not only a hiking trail — it can be accessed by both hikers and off-roaders, and is just a small part of the larger Moonshine OHV trail, which begins at the Doc's Beach OHV area. 
From the Doc's Beach trailhead, riders can either travel along the mellower, lower portion of the Red Mountain Loop toward Steinaker State Park toward Moonshine Arch, or quickly break off from the upper Red Mountain trail out of Doc's Beach to enjoy an additional loop of the Moonshine Arch Trail. This loop features more varied terrain, and meets up with the lower Red Mountain trail further on. You can also access this loop on the way back.
You'll be on pavement for a short stretch through Steinaker State Park and onto U.S. 191 before turning off towards the Moonshine Arch Trail a mile down the road. Keep your eyes peeled for the dirt road on the left — there's no specific markers for it. 
As you travel the dirt road, you'll see two parking lots, one for low-clearance vehicles and one for high-clearance vehicles. If you feel like hiking to the arch, park at the high-clearance lot and enjoy the 1.4-mile moderate out-and-back hike up to the arch (0.7 miles each way). If you want to take your OHV to the arch, be sure to go slowly on the trail and be aware of hikers and other recreationists. Expect wide, sandy trails and some moderate slickrock ascents/descents along the way.
The trail offers expansive views of the valley below, while the arch provides a scenic and shady area to enjoy a break and maybe some lunch. This sandstone arch is 40 feet tall and 85 feet in length, so it's definitely worth the trip either by foot or tire. When you're done at the arch, turn around back the way you came. The extra loop of the trail will be on your right, just past Steinaker Draw Road, if you didn't do it on the way there. 
Trail Details
Accessible By: 
Dirt bikes
ATVs
UTVs
Jeeps and 4x4s
How to Get There
The trailhead is located at Doc's Beach, a popular off-roading area in Vernal off of 2500 W St heading north from downtown. From Doc's Beach, riders will cross the road and head east to the main part of the trail. Doc's Beach is also a great place to tack on distance before or after your ride!
Need to Know
Because service may be spotty, be sure to bring along a map of the trail system. Screenshot any directions, maps and information you might need (like this article!). Bring plenty of water and make sure your vehicle is fully fueled for the journey. Again, be sure to be on the lookout for the turn off to Moonshine Arch from U.S. 191. It's 1 mile from your turn out of Steinaker State Park, on the left. 
You should also be sure not to turn around before you reach the arch. It's not visible until the final turn, so it may be tempting to think you're further away than you actually are. 
Downloadable Maps:
Nearby Places to Stay
Doc's Beach is only a 7-minute drive from downtown Vernal. 
Nearby Events
The annual Outlaw ATV Jamboree! Riders from all over the Southwest gather in early June each year to get a taste of Utah off-roading for the weekend. In addition to daily rides, there are cookouts, raffles, a night ride and lots of good times. It's one of the best ways to explore Utah's OHV trails and the Outlaw Trail System. So come on down, take in some of the best off-roading in Utah and make some new friends while you're at it. 
Seasonal
All Year:
Suitable For
Couples:

Families:

Friends:

Large Groups:
Accessible By
Dirt Bike:

ATV:

SxS (Side by Side):

High-Clearance 4x4 (Jeep):
Best Seasons to Ride
Spring:

Summer:

Fall:

Winter:

Year-round:
OHV Trail Difficulty
More Difficult:
Route Type
Loop:
Services & Nearby Facilities
Restrooms:

Facilities:

Steinaker State Park
Technical Rating
7 to 10:
Trail Distance
10 to 30 miles:
General
Historic Sites:

Outdoor Activities:

Summer Tours:

Vehicle Tour:
Sustainability
Dog Friendly:
To Do
ATV:

Camping:

Dirt Bikes:

OHV/Off Road Driving:

Scenic Driving:

UTV:
Trail Features
Difficulty:

Hard

Distance (mi.):

20

Parking Type:

Parking Lot

Route Type:

Loop

Trail Traffic:

Light
Trail Length
11 - 20 Miles:
Nearby Attractions
Closest National/State Park
Dinosaur National Monument
10
More OHV Info
Unnamed Road
Vernal, UT 84078 See Map