Bryce Canyon National Park Itinerary
---
Drive, hike, ride horses and ride along rugged dirt roads. Three days and two nights in Bryce Canyon National Park will allow you time on America's favorite byway, trails that will quickly fill up your camera and a western nostalgia for the books. Read more...
3 Days, 2 Nights in Bryce Canyon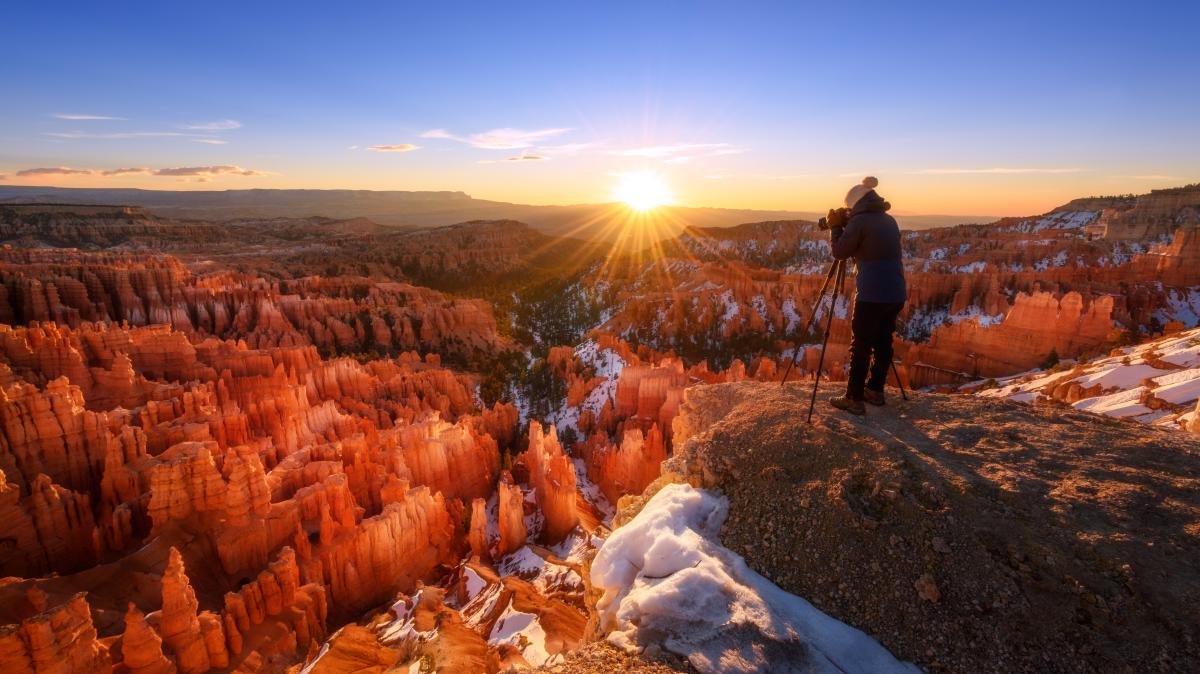 This three-day, two-night trip allows you to see and experience the best of the Bryce Canyon National Park area. Hike among the red rock hoodoos of Bryce Canyon. Travel along one of America's most beautiful highways, Scenic Byway 12.
Day One
Drive to Bryce Canyon
Check into your accommodations near Bryce Canyon National Park.
Drive into the park and stop at the Visitor Center to get an overview of the area. Follow the park's scenic drive to Sunset Point and enjoy the late afternoon/evening view. If you want to take a short hike, the easiest trail is the section of Rim Trail between Sunset and Sunrise Points. (1 mi/1.6 km round trip) Click here to see free days:
Entrance Fees (good for seven days):
$35 per private vehicle
$30 per motorcycle
$20 per individual by foot or bicycle
Day Two
Peek-a-boo Loop
Bryce Point to Sunset Point (3 hours)
The Peek-a-boo Loop Trail is an equestrian trail in Bryce Canyon National Park that is also extremely popular among hikers. It begins up at Bryce Point, arguably one of the best vistas in the park, zigzagging down the rim and into the canyon, where it splits into a loop trail that eventually meets up with the Navajo Loop Trail. Take the trail to Sunset Loop where you will pass Thor's Hammer.
Lunch
Horseback trail ride
(guided, 3 hours)
Professional wranglers will put you on well-trained horses and guide you through beautiful Red Canyon, just west of the National Park. Minimum age is 7 years old. Click here to find guides in the area.
Or
ATV Ride
(guided, 3 hours)
The Casto Canyon Trail takes riders through a virtual rainbow of red hoodoos, white, pink, purple and green colored sandstone cliffs. After making its way through the ever present red rock formations of the lower trail, riders will find themselves in a forested section of the area filled with green pine trees and meadows filled with multi-colored flowers.
For dinner enjoy some western entertainment at Ebenezer's Barn and Grill, at Ruby's Inn. With an excellent western dinner and cowboy Entertainment from the Bar G Wranglers, you'll be sure to have a great time. Tickets are available at Ruby's Inn or at the door.
Or
See Western Rodeo (2 hours)
Ruby's Inn hosts this old-fashioned rodeo, complete with cowboys and bucking broncos. This is classic western entertainment. Rodeos start on Saturday May 28, 2011 and will operate�4 nights a week, Wednesday through Saturday at 7:00 pm. 'Adults $10.00 and Children�ages 3-12 are�$7.00
Day Three
Pack your bags and check out of your accommodations.
Drive the All American Road Hwy 12
(4 hours)
This drive cuts through a corner of Bryce Canyon National Park and then follows a breathtaking scenic route through Grand Staircase-Escalante National Monument. It is a good, paved highway, but steep in spots. It descends into the Escalante Canyons region and then climbs over Boulder Mountain. From Boulder Mountain you can see the Waterpocket fold section of Capitol Reef National Park. Stop at scenic turnoffs as time permits. Hwy 12 ends in Torrey near the Capitol Reef National Park entrance.
Highlights of Highway 12:
Mossy Cave, a sneak peak of Bryce. Drive past Bryce toward Tropic and there is a pullout on the right. Play in the small cave and waterfall down a short half mile path.
Kodachrome Basin (22 mi/35 km) from Bryce
Escalante State Park (44 mi/70 km) from Bryce
Calf Creek Falls (67.6 mi/107 km) from Bryce
Anasazi Indian Village (80.8 mi/130 km) from Bryce
Lunch along the route.
Drive to I-15 or I-70 and return home.
TRAVEL BUREAU INFORMATION
GARFIELD COUNTY TOURISM BUREAU
55 S Main St.
Panguitch, UT
800-444-6689
Visit website
KANE COUNTY OFFICE OF TOURISM
78 South 100 East
Kanab, UT 84741
435-644-5033
Visit website


Latest Articles & Itineraries