Utah's Wasatch Back Region
---
The past is ever present throughout Utah's Wasatch Back. As you make your way to the mountains for your activity of choice, the roads wind through lush valleys and small towns. Iconic barns along the way remind you of the region's agricultural roots, and that ranching is still a way of life for many people here.
Look closely and you might spot small signs with wiry legs displaying nothing more than the symbol for the fictional Dutton Ranch, directing crew members filming a popular television series to the day's location. But the area is so much more than a scenic backdrop for movie and television productions.
Wasatch Back is also home to the historic Heber Valley Railroad (affectionately nicknamed the Heber Creeper by locals because of its slow pace), as well as a couple of 2002 Olympic venues where anyone can now fulfill their need for speed.
Utah's Wasatch Back Region Views to Expect
If making runs down narrow, twisting tracks of ice in a fiberglass bobsled isn't your jam, there are many other things to do 'round here, from skiing to shopping and Sunday brunching. Park City is famous for all three. It's also known for Robert Redford's Sundance Film Festival, the largest festival for indie flicks in the United States. Park City isn't the most populous city in Wasatch Back, though. Heber City has more than twice as many residents and is one of the fastest growing cities in Utah. People come and never want to leave.
Tucked behind Heber City is Midway, a charming, award-winning small town with a Swiss theme. Pack your lederhosen and your swim fins, because there's a geothermal spring hidden beneath a volcano-shaped limestone formation where you can scuba dive, snorkel or simply soak in The Crater's warm water. Midway is also where you'll find Wasatch Mountain State Park.
Speaking of state parks, there are as many centered around watersports in Wasatch Back as you can count on one hand: Deer Creek, Jordanelle, Rockport, Echo and Strawberry Reservoirs.
There are also upwards of 1,000 natural alpine lakes sitting beneath the snow-capped peaks of the Uintas (pronounced yoo-win-tuhs) . Some are reachable by road; others are only found by foot or hoof. You may not have WiFi in this part of Wasatch Back, but the snowmelt is usually streaming on the forested slopes the mountain range is named after. (Uinta is derived from a Native American word the Ute tribe used meaning pine trees or pine forest.)
Enjoy the scenery and wait to post that summit selfie on Kings Peak — Utah's tallest mountain with an elevation of 13,528 feet — until you're off the trail and back in town.
---
Planning Your Trip to the Wasatch Back
Driving Directions to Park City
FROM THE NORTH
The fastest way (38 minutes) to get to Park City from Salt Lake City is via 1-80 E. Drive for 24 miles then take exit 145 toward Kimball Junction. Continue on UT-244 S for 6.7 miles to Park Avenue.
FROM THE SOUTH
In a mere 4.5 hours (304 miles) you can escape the sweltering St. George heat and enjoy the cool mountain air in Park City. Take I-15 N to University Avenue in Provo (exit 263). Follow U.S. Route 189 N for 14 miles then use exit 4 and make your way to Deer Valley Drive.
Driving Directions to Heber City
FROM THE NORTH
The 45-mile drive (44 minutes) from Utah's capital to Heber is easy, breezy. Take I-80 E to exit 146 and follow US-40 E down to Heber. Boom. You have arrived.
FROM THE SOUTH
Coming from St. George? Drive for 255 miles (3.5 hours) on I-15 N until you reach Provo. Take exit 263 to U.S. Route 189 N and follow it for 30 miles (40 minutes) until you reach Heber's Main Street.
---
Things to Do
World-class. That's pretty much how everything in Utah's Wasatch Back region can be described. Many pro skiers and champion snowboarders make their homes near Park City's mountain resorts. And if the snowy slopes meet their high standards, all the Average Andys out there are certain to enjoy bombing down diamond runs and mastering the moguls.
In the summer, you can connect with a PGA professional on one of the 13 golf courses located throughout Wasatch Back. And every year the Wasatch County Fair hosts competitions sanctioned by the Pro Rodeo Cowboys Association, the largest rodeo organization in the world.
Other things to do include:
● Camping
● Backpacking
● Hiking
● Fishing
● Boating
● Mountain biking
● Off-roading
● Horseback riding
● Tubing
● Ziplining
● Kiteboarding
● Hot-air ballooning
● Snowmobiling
● Dog sledding
● Snowshoeing
After all that recreation, relaxation is just a (hot massage) stone's throw away. There are several spas in the region where you can soothe your tired muscles. Signature treatments, like those at The Spa at Stein Eriksen Lodge, are designed with the Wasatch Back's high altitude and dry climate in mind.
---
Where to Stay
HEBER CITY ACCOMMODATIONS

From ma-and-pa motels to chain hotels and secluded dwells, there are plenty of places to stay in Heber City. Most commercial accommodations offer free continental breakfasts and are conveniently located in the city center. To truly surround yourself in scenery, however, consider Daniels Summit Lodge. The rustic-chic retreat is surrounded by a national forest and offers on-site ATV and snowmobile rentals.
---
MIDWAY LODGING OPTIONS

Choose from a handful of lodging options in Midway, ranging from intimate bed and breakfasts like Blue Boar Inn to larger resorts like Zermatt Utah Resort & Spa. Inside this charming Swiss-inspired hotel, you'll find carefully appointed rooms. Outside you'll find a carousel, a giant chessboard, miniature golf, tennis courts, pools and hot tubs. Don't forget to feed the goats while you're there.
---
PARK CITY PROPERTIES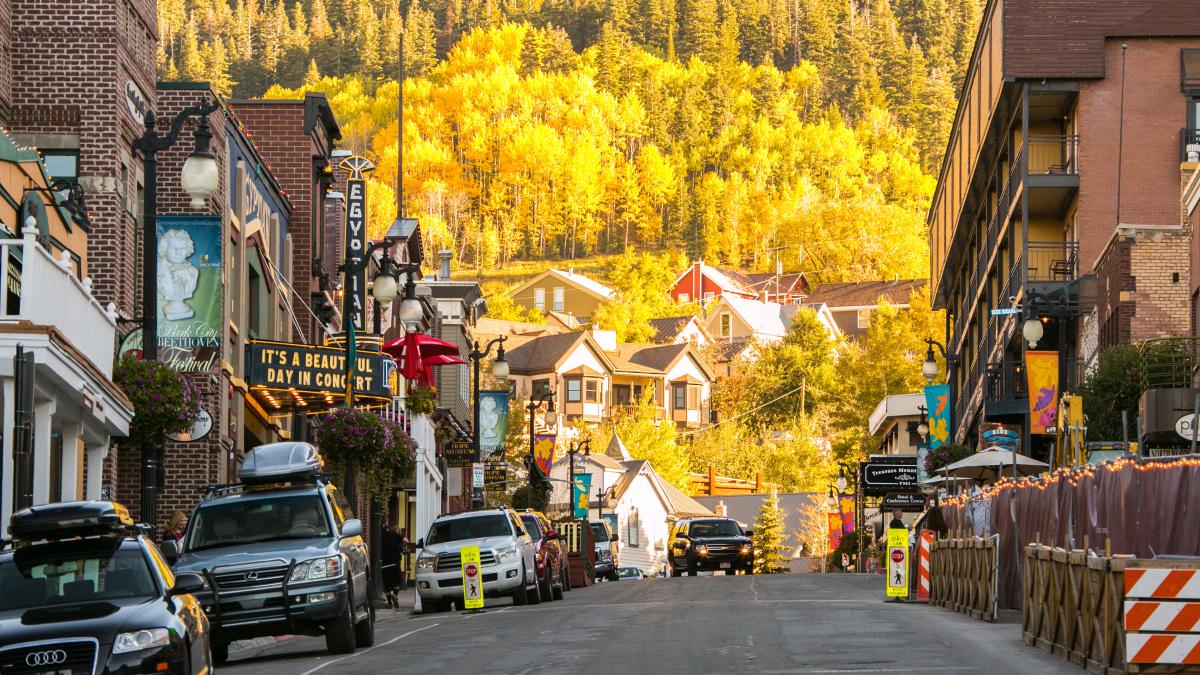 Like any good mountain town, there are countless lodging options in Park City. If you want to be close to the nightlife, stay on Main Street where you're within walking distance of several bars. For a quieter experience, consider a boutique hotel like Washington School House. Several properties also have ski-in/out access — a must for many. And private vacation rentals are practically everywhere, ranging from modest condos to massive cabins.
---
WASATCH BACK CAMPGROUNDS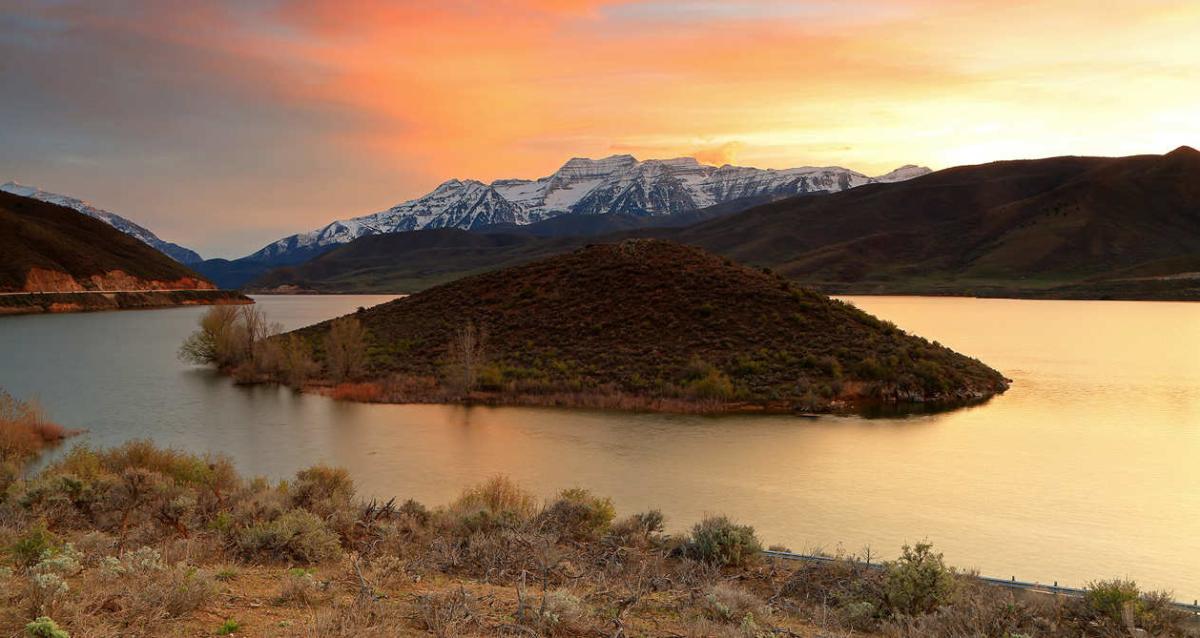 There are far too many campgrounds in this region of Utah to list them all. Smith Moorehouse and Ledgefork campgrounds are faves located on Forest Road 422 along the western edge of the Uintas. Mirror Lake Scenic Byway is lined with campgrounds; Trial Lake is a great basecamp for hiking, kayaking and fishing, while Christmas Meadows is an enchanting spot for fly fishing and off-roading near the Utah/Wyoming border.
Every state park in the area also has at least one campground. Little Deer Creek is located in Wasatch Mountain State Park. Visit the Utah state parks page on ReserveAmerica.com for more information on the campgrounds at Deer Creek, Jordanelle, Rockport, Echo and Strawberry Reservoirs. Watersports equipment rental is also available at Jordanelle, Deer Creek Island Resort and other outfitters in the area.
---


June 7th
Sure the Wasatch Mountains are pretty to look at, but...
Read More
August 12th
Spend the dog days of summer at a higher elevation If...
Read More
REQUEST INFORMATION
HEBER VALLEY OFFICE OF TOURISM
475 N. Main Street
Heber, UT 84032
435-654-3666
Visit website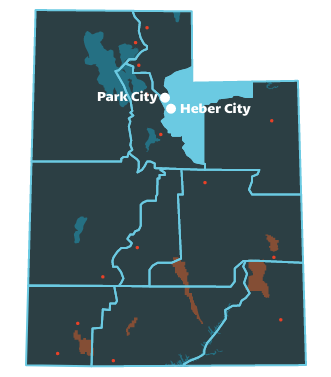 Utah's Wasatch Back Region
---