East Zion
---
Welcome to the east side of Utah's Zion National Park, the quiet side.
Visitors who stay on this side of the park have much closer access to other destinations such as Bryce Canyon National Park, Cedar Breaks National Monument, the Grand Staircase Escalante National Monument, and even the North Rim of the Grand Canyon. There are peaks in East Zion where you can even see some of the above-mentioned.
 
The east side of Zion is accessed via State Route 9, a scenic highway, which passes through Zion National Park and connects with U.S. Route 89. Elevations on this side of the park range from 5,200' to over 6,500' resulting in cooler summertime temps. Between the East and the west, this ain't no Westside Story...it's the best of both worlds. Nearby communities include Mt. Carmel Junction, Orderville, Glendale, and Kanab.
Never heard of Kanab? That's both great and really terrible. Kanab is like a chuck wagon of awesomeness, with western film heritage, outdoor recreation, great food and even an animal sanctuary. Here's a little guide on how to visit Kanab.
Observation Point is one of the highlights of Zion National Park, but it's reserved for those who can handle the 2,000-foot elevation gain. Be sure to shout, "Nice try!" at the people below you who thought they were cool for summiting Angels Landing.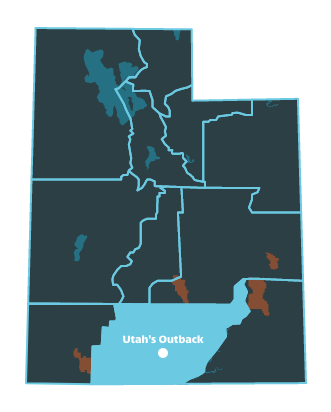 Utah's Outback Region
---